Gallery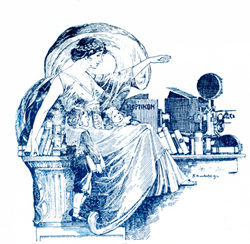 In the context of the popularisation of knowledge and the sciences on which it was based, increasing clarity by means of visual representation was always an important factor in adult education.
In accordance with this, easily comprehensible and well-structured lectures, lecture series, courses followed by discussions and practical exercises as well as excursions and educational trips, which all built upon either practical and professional experience, were held at many adult education establishments. Parallel to this, visual stimuli were also increasingly employed after approx. 1890 in order to transfer knowledge and educational content by using slide shows and film screenings.
With its artistic, hand-painted glass transparencies, the Urania Wien led photography to new heights between the 1890s and 1930s. Exotic faraway places, the Austrian Alps, scientific phenomena, technical achievements, economic production methods as well as themes on the history of art, architecture and music were brought closer to a wider audience in hundreds of so-called repertory lectures for adults and students.