Documentation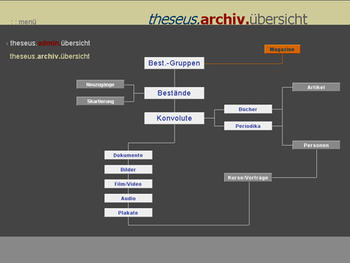 The holdings of the archives and library are continuously and electronically recorded and processed in the Archive information system THESEUS. This enables a search to be conducted of the entire holdings of the library, the indexed individual contributions of selected journals from the collection of periodicals, articles from books and the holdings of the organisation and association archives as well as donations and bequests.
The database "Academic Research Papers" of the Knowledgebase Adult Education internet platform can be accessed online and contains research papers and academic final theses (papers, diploma, doctoral and habilitation theses) on the topics adult education, continuing education and the popularisation of science which can be viewed in the Austrian Archives for Adult Education.
About 316,000 individual datasets from the THESEUS module "Courses and Lectures" are accessible under Holdings Search. They include all courses, lectures and other events at all adult education centres in Vienna as well as the "Volkstümliche Universitätsvorträge" from 1887 to 1965. This data can be searched for using the names of lecturers, title words and descriptors.
In the archive's own historical register of persons, a short biography on the life and work of about 5000 adult educators can be found.

back